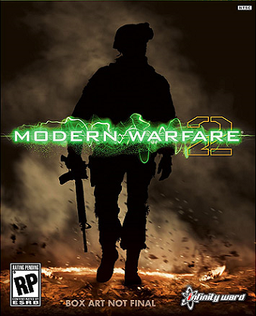 Modern Warfare 2 (previously known as Call of Duty: Modern Warfare 2) is an upcoming first-person shooter video game from Infinity Ward. Officially announced on February 11, 2009, the game will be published by Activision and is due for release on November 10, 2009. Although the game does not share the Call of Duty series title, Modern Warfare 2 is a sequel to Call of Duty 4:Modern Warfair. As with its predecessor, the game will be set in modern times.
The storyline for Modern Warfare 2 has yet to be revealed in detail. Robert Bowling, the community manager for Infinity Ward, posted an update on his personal blog regarding the voice work for the game. In the post, Bowling stated that he was reviewing some lines from the game's script, and shared the radio-chatter line "Cujo Two-One this is Vulture, solid copy on all."
Ad blocker interference detected!
Wikia is a free-to-use site that makes money from advertising. We have a modified experience for viewers using ad blockers

Wikia is not accessible if you've made further modifications. Remove the custom ad blocker rule(s) and the page will load as expected.